Serious learning…with a smile!

Specialty Tutoring is a nonprofit agency that has been helping children overcome learning difficulties since 1999. We strive to provide the very best specialized and affordable services available. Our learning specialists understand each child's unique challenges, and they are trained to recognize and address the underlying reasons for these struggles. Using programs proven to be effective, we seek to turn a child's frustration into a triumphant smile.

Our goal is to enhance a child's ability and motivation to learn. We do this through one-on-one, interactive, and personalized tutoring. Our most important product is the child's renewed belief in his or her ability to succeed.  We take our work very seriously and truly appreciate being a part of each child's journey.
We are always accepting resumes. Please see our employment page for more details.
Watch this short video for a glimpse at what makes us special!
What Makes us Special?

Our tutoring is always
one-on-one
. Each child's learning plan is
individualized
and determined by that child's specific needs. Our
programs
are research-based and continue to be modified as new scientific data emerges. Our
learning specialists
are trained to address academic skills from all angles, incorporating activities that strengthen the underlying
cognitive learning skills
that are necessary for all learning to take place.
This stimulating method is interactive and consists of sequenced activities designed to promote a high level of retention. We involve parents in this process by providing targeted practice to be used at home, and by building a strong communication triangle between parent, child, and learning specialist. All of this translates into the number one thing that makes us special—a child's increased confidence and renewed attitude towards learning.
What Makes Us Special
Is Specialty Tutoring the right fit for my child?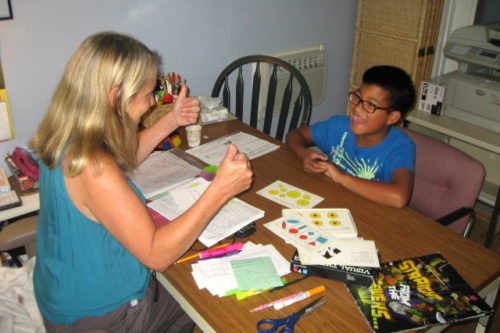 Has my child always struggled in a certain area, such as math or reading?
Is my child starting to fall behind now that material has become more difficult?
Does my child lack phonetic strategies for decoding (reading) and encoding (spelling) of words?
Does my child become frustrated and emotional when working on reading, spelling, comprehension, math, or writing assignments?
Is homework time a family struggle because so much time is spent on review of previous skills?
Does my child lack confidence in certain skill areas that are affecting his or her overall self-esteem?
Has my child been diagnosed with a learning disability or condition that affects his or her ability to process and retain information in a classroom setting?
Does my child need constant repetition and practice of skills that can't be provided in a group setting?
Has my child's teacher indicated that outside help is needed in order to be at grade level?
Does my child have difficulty reasoning and/or organizing his or her thoughts in order to effectively discover and communicate an answer?
Does my child exhibit anxiousness, avoidance, or impulsiveness when faced with new or challenging material?
If you answered YES to any one of these questions, then Specialty Tutoring is ready to offer professional and customized help for your child. Click here for information on how to get started:
Getting Started
Hear From Some of Our Parents
Hear From Some of Our Students
What are people saying about Specialty Tutoring?
Specialty Tutoring provides caring, professional tutors. These skills transcend into our children's academic success and the increase in self-confidence. They truly invest in each child's success.
Diane S. – Boys & Girls Club 21CCLC Director
Those that have been participating with (Specialty Tutoring) have gained tremendously in their reading skills…
Rebecca S. – principal
All the tutors I've come in contact with really care about the children. They care about the job they're doing to prepare them and getting them on to grade level… It's a real, real benefit as a principal of a Title I school to know that there are companies out there who are not just out to make a quick buck, but who can really make a difference in a child's life.
Timothy B. – principal
I don't know of any child yet who did not benefit from Specialty Tutoring. I thoroughly believe in it, (and) highly recommend it.
Mary S. – principal
I just saw great success with my students who were involved in the program…you could see that growth follow right through into the classroom. This is a wonderful program, and I would highly recommend it to everyone.
Chuck G. – principal
Our son would not have received the personal attention he needed to attain his goals and improve his learning if it were not for Specialty Tutoring's tutors, teaching materials, and environment! Our son is performing now at his grade level or beyond. The one-on-one teaching time is priceless and made our son feel special as well.
Laura O. – parent
Specialty Tutoring helped me as a parent understand how learning worked…what I was seeing in my child. I was able to better help and be positive about the whole experience.
Sandy R. – parent
Nick will now read aloud to other children. His confidence has increased dramatically. He has made wonderful progress.
Robert H. – parent
I love the one-on-one experience because we can just slow down and work at my own pace…
Alyssa L. – student
I thank God for ST, for the tutors, for the compassion, for the extremely gifted skills that the tutors have to be able to test…and really focus on exactly what each child needs…what their challenges are…and it's just remarkable how they can help so much in just a short amount of time.
Cathy A. – parent
I have had many tutors and this has been a GREAT experience. I have never had a tutoring service so caring and wonderful as Specialty Tutoring!
Sarah T. – parent
He has learned to read through the Lindamood-Bell system, and (his tutor) has known how to modify it a bit to fit my son… They have so many ideas of how to help these kids and how to help them enjoy learning and they feel so good about it when they've done it.
Cindy C. – parent
In school, I started to shut down with working. And when I went to (Specialty Tutoring), I started to get back up.
Ryan R. – student
Savana started the year still reading at a 3rd grade level. She has ended the year at the start of a 5th grade level. She has even made honor roll for the first time ever.
Elizabeth S. – parent
The Lindamood-Bell system is awesome. He does very well… He's been on the high honor roll.
Marianne C. – parent
As a school administrator, I must continuously weigh what is best for our students. Simply put, Specialty Tutoring has helped some of our students most in need. Thank you for your work.
Robert S. – principal
They loved coming. I never had to get on them when it was time to come to Specialty Tutoring…You've made a huge difference in our lives and I'm so thankful for you.
Sherry H. – parent
I just want to say thank you for the service you provide to our community. It means a lot…to our patients and our families who come back very pleased and…show significant improvement as a result of being involved in your program.
Tasha W. – physician
I can't express to you in words the growth I have seen in my child since he started at Specialty Tutoring. The program was uniquely tailored to help Jake, and the results were immediate as well as long lasting. Thank you from the bottom of my heart for helping my son be the good reader he never knew he could be!
Jill A. – parent
Our families have seen their children grow and become stronger learners after working with Specialty Tutoring.
Janice C. – principal
His self-esteem is the highest it's ever been in school. Something close to a miracle happened in our home.
Christine O. – parent
Students look forward to meeting your highly qualified teachers. You've done a great job training them to help fill in those gaps and make the children strong in their skills."
Debbie P. – teacher
I just appreciate her so very much because she was always patient with me and always willing to work hard with me…
Jared H. – student
…he's just been so much more confident and his self-esteem is so high compared to other years.
Sharon W. – parent
Thanks to this program, I'm in college now.
Joe A. – student
I'm so thankful that you've always been able to take kids with mixed medical issues…And certainly all the families and kids who've come back to Fort Wayne Neurology have been really appreciative of all of the work that you've done.
Peter D. – physician
Specialty Tutoring is a dedicated member of the Fort Wayne community and has tutored countless hours of students. They have also helped to implement plans and programs that will enrich the lives of the students they tutor. From their organization to their professionalism, Specialty Tutoring is making a positive impact on the students they tutor.
Timothy B. – principal
She has helped Katie so much with her self-esteem, her willingness to learn and her excitement for life. This has been money well spent for us.
Brenda G. – parent