Three Step Process

Step 1: Individualized and Targeted Initial Evaluation
Step 2: Scheduling Options & Tutoring Placement
Step 3: Pricing, Ongoing Tutoring Sessions, and Progress Evaluation

Step An individualized and targeted Initial Evaluation

At Specialty Tutoring, your child's entire experience is individualized based on his or her specific needs, starting with the initial evaluation. Your child will meet one-on-one with a test administrator to determine strengths and weaknesses in both the targeted curriculum areas of your choice and the underlying cognitive learning skills associated with those curriculum areas. The results serve as a guide for creating the best learning plan for your child and also establish a benchmark for assessing future progress.
At the initial evaluation, each child will receive all of the assessments that measure aspects of the following Cognitive Learning Skills:
Visual Tracking & Rapid Naming
Visual Processing
Visual Discrimination
Spatial Awareness
Visual Memory
Logic & Reasoning
Auditory Memory
Phonemic Awareness
Language Processing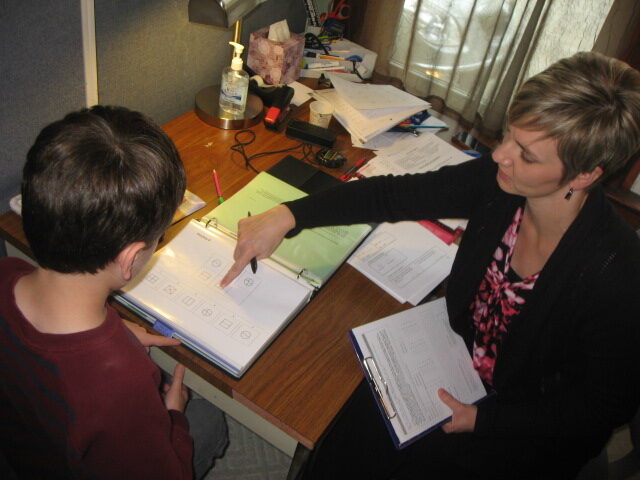 Click here to find out more about Cognitive Learning Skills:  
What Makes Us Special – Cognitive Learning Skills…Essential for All Learning

Parents will choose the curriculum areas to be targeted during the tutoring sessions, and those areas will be thoroughly assessed at the initial evaluation. It is strongly recommended that the first 30 hours of tutoring be limited to 1-2 curriculum areas. More testing may occur at a later date to change the focus of the tutoring sessions to another curriculum area. The four curriculum area choices are as follows:
1. Reading Fluency

Rate, accuracy, fluency
Phonemic awareness
Word recognition
Phonetic reading
Phonetic spelling
Primary reading skills (if necessary):

Letter recognition & formation
Sight word recognition
Rhyming, identifying, and blending sounds
2. Reading Comprehension

Multiple-choice comprehension
Open-ended response comprehension using Higher Order Thinking Skills:

Locating and remembering facts
Making inferences and drawing conclusions
Predicting and extending
Determining the main idea

Visualization of what is read and heard
Vocabulary
Oral language expression
3. Writing (only available to grade 3 and above)

Strong vocabulary and varied sentence structure
Summarizing of fiction and non-fiction
Structure for a variety of writing applications:

Writing prompts
Stories
Reports & essays
Book reports & critiques

Written conventions:

Capitalization
Punctuation
Grammar/usage
4. Math

Practice in all major math standards at each grade level
Emphasis on foundational skills (number sense, computation, problem solving)
Use of hands-on math
Step-by-step method for solving story problems
Strategies for memorization of math facts
Primary math skills (if necessary):

Counting
Number recognition & formation
Click here to learn more about each curriculum area and the programs we use: 
What Makes Us Special – Programs…Effective, Proven, and Research-based
Note: A customized, shortened initial evaluation may be available upon request if one of the following circumstances applies:
Child has been assessed within the last two years by FW Neuropsychology or another pre-approved agency, and parent can provide a copy of the test results.
Child is a return client who has already gone through Specialty Tutoring's complete initial evaluation process within the last two years.
($20 processing fee + evaluation time pro-rated at $45/hr. applies.)
Please feel free to call for more information.

Pricing for Initial Evaluation
All prices include a 1-hour parent consultation, occurring within a week of the initial evaluation date, at which the tester and parent meet to go over the evaluation results and discuss programs and targeted areas.
Cognitive Learning Skills + 1 Curriculum Area = $125 (2 – 2.5 hrs.)
Cognitive Learning Skills + 2 Curriculum Areas = $135 (2.5 – 3 hrs.)
Cognitive Learning Skills + 3 Curriculum Areas = $200 (3.5 – 4 hrs. split into two appointments)
A $20 discount may be available for families who are pre-approved for Specialty Tutoring's financial assistance program. Contact us for more details or click the link to download and print our Application for Reduced Rate Tutoring.
Step Scheduling Options & Tutoring Placement

Once your child is scheduled for the initial evaluation, his/her name goes onto our waiting list for tutoring placement. As openings become available, they are offered to clients on the waiting list.
The tester will get your preferred availability for tutoring at the parent consultation that follows the initial evaluation. Our client services manager will call you when we reach your name on the waiting list. Wait time varies depending on time of year and current client enrollment. Please know that we will do everything within our power to place your child as soon as we are able.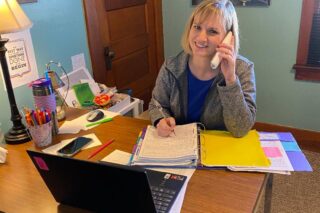 All of our tutoring openings are 1-hour sessions which occur two times a week at a set time for easy planning. The most common openings are either Monday/Wednesday or Tuesday/Thursday, but we are sometimes able to offer weekday/Saturday times. During the school year, tutoring occurs in the after-school and evening hours, with daytime hours available by request for homeschool families. During the summer, daytime and evening hours are usually available.
Most sessions are conducted at our learning center on Coldwater Road.  Off-site tutoring locations vary and may be possible depending on tutor availability. In the event of a waiting list at our regular or offsite locations, some families choose to be placed on more than one list. For example, if services start at our north learning center, you may remain on an offsite list and switch tutors when an opening becomes available closer to your home.
Tutoring sessions may also occur before or during school at your child's school. This is dependent upon tutor availability and room space at the school and is initiated with the school by the parent. Call to request more information.

Step Pricing, Ongoing Tutoring Sessions, and Progress Evaluation

The regular rate for tutoring is $45 per hour* ($90/week). Specialty Tutoring accepts cash, check, ACH debit, and credit/debit cards (a small surcharge is added for credit/debit card use).
*A financial assistance program is available for families experiencing hardship. Contact us for more details or click the link to download and print our Application for Reduced Rate to determine if you qualify.
Reduced Rate Tutoring Application
Services are pay-as-you-go and clients are not required to sign a contract for a pre-determined amount of hours; however, we strongly recommend that you commit to a minimum of 30 hours of consistent tutoring to realize the full benefits of our program. Payment must be received on or before each date of service. Attendance must be consistent to avoid incurring no-show fees.
Your child will always work one-on-one with the same learning specialist, which promotes both continuity and good rapport and allows for each session to be individualized based on need.
A progress evaluation will occur after 30 hours of tutoring to monitor growth in targeted areas and to revisit goals and objectives.
Ready to get started? Give us a call or send us an email!